The Leadership Team Boot Camp™
Refocus your leadership team for higher performance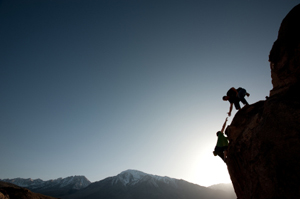 The Leadership Team Boot Camp involves the senior managers and leaders of an organization (the senior team) and typically has 3 main elements which focus on building:
senior team performance;

individual leadership effectiveness - specifically in the area of communication; and

alignment regarding the senior team's purpose, key organizational objectives and the action plans required to carry the organization forward.

The Three Phases of The Leadership Team Boot Camp™:
We start with a meeting between the CEO or President and myself to ensure alignment regarding the scope and objectives of the program. I will then meet with each member of the senior leadership team.

I then design and deliver an off-site session where we lead the group through a series of exercises and workshops that address the objectives. Some specific elements could include:An exercise which looks at what gets in the way of effective teamwork especially on a senior leadership team, Exercises which explore and build connections between members of the senior team, The development of a simple senior team scorecard, which creates a metric that allows the members of the senior team to assess their own performance, Conversations which lead to the creation of a clear mission statement for the senior team, Skill building exercises relating to leadership communications, A SWOT exercise which drives the development of clear priorities for the senior team and then, the creation of action plans.

I return in 6 months and spend a half day with the senior team. I review how the team is doing and work with them to renew the commitments made to each other at the beginning of the LTBC.
---
To find out more about the Leadership Team Boot Camp™, please contact me.