T2M & T2L:
Turning Key Employees into Effective Managers & Leaders
Growth Demands That Key Employees Grow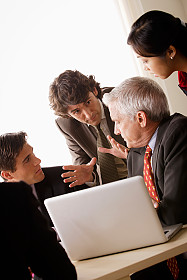 As companies grow, key employees are asked to make fundamental changes in the way they approach their jobs and view their roles in the organization. Often they're asked to change from technicians and doers to managers and leaders.

Times change and key employees have to change with them. The tactical skills required to launch a business and see it through the critical start-up years are often very different from the leadership skills required to guide it through subsequent phases. A management and leadership development program can help them to do this effectively.

Management & Leadership Development for Key Employees
Hard work, technical experience and gut instinct are always important. But these must be supplemented with other skills, such as the ability to manage processes, implement strategies, motivate staff, mentor subordinates and build teams.
Very few employees make the transition to management instinctively. Many fall by the wayside, victims of an evolving business environment that overwhelms them and for which they are ill prepared. I developed two management and leadership development programs, Transitions To Management (T2M) and Transitions To Leadership (T2L), to help employees make this transition.

The T2M & T2L Leadership Development Programs
T2M and T2L are the result of nearly two decades of hands-on experience. Specifically designed for growing, medium sized companies, T2M & T2L help organizations retain and grow the employees who helped build the business and whose knowledge is needed to drive it forward.
During the T2M and T2L programs, your key employees will learn to work with their peers in a cross-functional team. They will build a permanent, integrating force that will help your company become more efficient and effective. These employees, on whom the future success of your company depends, will build the knowledge and skills they'll need to be better managers and leaders.

T2M & T2L will help your employees learn about:
Relevant managerial and leadership theories and their practical application in everyday business life
How to motivate employees to excel
The art of listening and of effectively communication verbally and in writing
The essentials of team building
Using leading edge tools and techniques to plan, control and manage
Effective techniques for problem solving and decision making
Group dynamics and individual behaviour
Managing time

Some Background On My Approach to Management & Leadership Development
My experience in management and leadership education and coaching, as well as research from trainers and educators, has taught me that traditional seminar or classroom training has a very short half-life. In fact, take-home value, or retention level, of many management and leadership development programs, usually tends to be quite modest.
There are three things that have proven to increase retention levels and enhance the benefits of leadership development initiatives:
Workshops and exercises that emphasize experiential learning activities have a greater impact and participants tend to assimilate new information at a deeper level
Adding an element of coaching helps each learner in his or her process of integrating material into their day to day activities
People learn more when educational exercises and materials represent issues and situations to which they can relate.
As a result, the T2M and T2L management and leadership development programs include experiential activities, individual or group coaching, and exercises and materials that relate to the participants' work environment and worldview as much as possible.
For any manager or leader, their level of emotional intelligence will be a key determinant of their success. As a result, a core element of all programs is a focus on increasing participants' relational skills.
---
Call me to explore the potential of T2M and T2L in your workplace. I'll arrange an initial, no obligation consultation to discuss how I can help your key employees make the transition to more effective managers and leaders.